We are proud to offer one of the biggest used tire selections in British Columbia. All of our tires can be found in stock right at our convenient location here in Coquitlam, BC, Canada.
Warranty Backed Used Tires
Due to high quality control standards we can safely back the used tires we sell without our industry leading used tire warranty. Used tire buyers no longer have to take the risk of buying used. We take all of that risk out when we carefully inspect and test each set of tires. So rest assured and buy with confidence.
Convenient Location
We are located just a few second off of highway one, practically at the intersection of Brunette and Lougheed. This allows for quick and easy access no matter where you might be.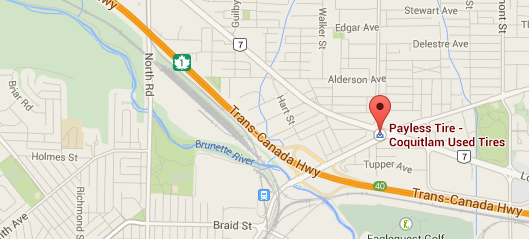 Trusted Brands – Used and New
We carry most major tire brands in both new and used conditions. This allows buyers to choose exactly the set of tires they need, be it performance summer tires, economical all season tires, or durable winter tires. We have it all!

Other Tire Services
We also perform many other tires services such as Wheel repair, Tire repair, Rotation, Balancing, Trailer tires, and Steel wheels. We basically offer all the tire services anyone needs under one easy to access roof.
Get in Touch
Stop by our shop located at 901 Brunette Ave Coquitlam, BC V3K 1C7 or simply give us a call (604-518-7693) and our trusted tire professionals will be happy to assist you. Remember Payless Tire – Coquitlam Used Tires when you need your tires changed!